Alchemy practitioners create various potions that can be consumed for instant health and mana and other stat boosts. This can be done using an alchemy worktable. The ingredients can be purchased (tonics) and acquired through Foraging.
Apprentice Alchemy Trainer
Edit
Apprentice Alchemy Trainers give out daily skill quests related to the Alchemy profession. They can be found in the following places:
Produced items
Edit
Locations
Edit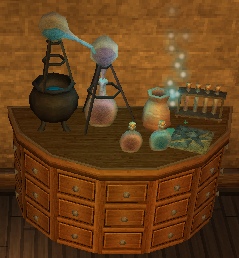 Alchemy Worktables
can be found in the following places:
---
Ad blocker interference detected!
Wikia is a free-to-use site that makes money from advertising. We have a modified experience for viewers using ad blockers

Wikia is not accessible if you've made further modifications. Remove the custom ad blocker rule(s) and the page will load as expected.