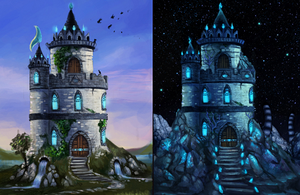 The Arcane Tower is located in Othalo and has a portal to an area in the Medial Void, called the Alphex Void. The Alphex Void is a reflection of the same area in Othalo, and the building equivalent to the Arcane Tower is called the Alphex Tower.
Arcane Tower
Edit
Mage Horris can be found standing outside of the Tower. Inside the tower on the first floor is Mage Gilbertus, and on the second floor are Mage Lucas and his Crazed Apprentice, who will open the Arcane Portal for you, teleporting you to the Alphex Tower. They and Mage Litha in the Alphex Void are your guides in the quest [2] Arcane Council Trial.
Outside of the Tower you can find
a meteor crater with three mages standing around it. There is a corresponding crater in the Alphex Void.
Alphex Void
Edit
NPCs:
Creatures:
Resources:
Other:
Ad blocker interference detected!
Wikia is a free-to-use site that makes money from advertising. We have a modified experience for viewers using ad blockers

Wikia is not accessible if you've made further modifications. Remove the custom ad blocker rule(s) and the page will load as expected.