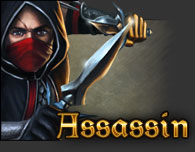 Favored attribute: Melee
Melee slots: One-handed weapons
Ranged slot: Throwing weapons
Preferred armor: Medium
Abilities: List of Assassin abilities

A fast, high damage, melee, medium armor wearing class, the Assassin uses their abilities to deal large amounts of damage and take out your enemies one at a time. Melee is your main attribute as you kill your targets with dual wielded small weapons. Although Sorcery and Ranged are of little use to the Assassin, Energy will keep your lethal abilities coming. Critical hits from Focus will also help to finish your foes quickly. The Assassin gets the most out of their razor sharp blades with Lacerate which deals additional damage and Rupture which causes their targets to bleed out over time. To augment this pair of vicious skills, the Assassin uses Lethal Concoction, an insidious skill that throws a pool of acid over an area which eats away at any enemy caught within it. With their Corrosion talent, the Assassin can make this Lethal Concoction truly live up to its name. In the hands of a skilled Assassin, Lethal Concoction, Lacerate and Rupture can be used with devastating effect.
Ad blocker interference detected!
Wikia is a free-to-use site that makes money from advertising. We have a modified experience for viewers using ad blockers

Wikia is not accessible if you've made further modifications. Remove the custom ad blocker rule(s) and the page will load as expected.