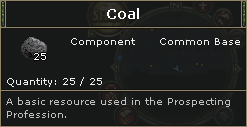 Coal is a basic resource used in the Prospecting profession.
Uses: Coal is used in the creation of all metal ingots and bars, each requiring 1 coal.
Sources: Coal can be mined from Coal Deposits, which can be found in the Othalo Mine and numerous other locations. To mine coal, you must either equip or have a pick axe in your inventory.
Can also be bought from a Component Shopkeeper for 5 silver per unit.
Locations: