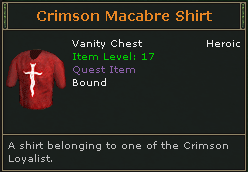 Quest: [18] Crime Doesn't Pay, and any future quests where you have to enter the Crimson Macabre Stronghold
Source:
during the (Eldevin) day, steal from a sleeping Crimson Loyalist in Northam. He can be found close to the shoreline
at night, steal from a Crimson Loyalist asleep on some crates next to the Stronghold entrance
Use: equip in your vanity layer before attempting to enter the Crimson Macabre Stronghold
Note: can be stolen at any time, but is wearable only at character level 17 and above.
Ad blocker interference detected!
Wikia is a free-to-use site that makes money from advertising. We have a modified experience for viewers using ad blockers

Wikia is not accessible if you've made further modifications. Remove the custom ad blocker rule(s) and the page will load as expected.