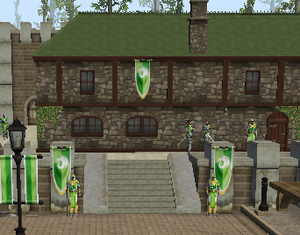 Eldevin Army Barracks are the headquarters of the Eldevin Army, located in the South-East corner of the City. The barracks have a ground level and a basement level.
Ground level
Edit
The basement has an entrance to the Eldevin Sewers and a portal to the Arcane Sanctum.
Storeroom
Edit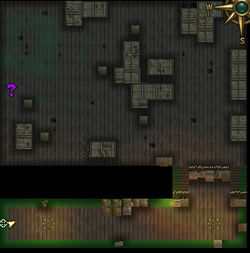 Solo Instance
Accessed via a door in the north-east of the Basement (only during [14] To Arms! and [14] The Root of the Matter)
Barracks Quarters
Edit
Accessed via a door in the south-west of the Basement
Eldevin Army Liaison
Enziostien - first room on the right after entering. The door to the Quarters (which leads to Enziostein's room) is unlocked after Stage 15 of Meeting the Company from the A Soldier's Duty questbook.
Secret Tunnel
Edit
accessed through Enziostien's room
Ad blocker interference detected!
Wikia is a free-to-use site that makes money from advertising. We have a modified experience for viewers using ad blockers

Wikia is not accessible if you've made further modifications. Remove the custom ad blocker rule(s) and the page will load as expected.