The Fountain of Eldevin is located in the Central Square of Eldevin City. It is possible to fish there.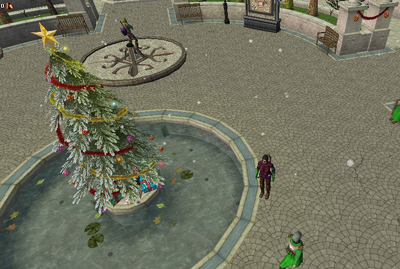 Fishing can yield the following:
Nothing (you fail to catch anything)
1 of many different Gold, Silver, or Copper Coins (collecting these can earn you achievements).
1 of General Loot items. The exact items you can get depends on your level.
The stats below are based on 938 fishing tries in the Fountain :
469 General Loot items (50%)
69 Stickleback (~7.5%)
19 Gold Coins (~2%)
50 Silver Coins (~5.3%)
120 Copper Coins (~12.7%)
211 failed tries (~22.5%)
Ad blocker interference detected!
Wikia is a free-to-use site that makes money from advertising. We have a modified experience for viewers using ad blockers

Wikia is not accessible if you've made further modifications. Remove the custom ad blocker rule(s) and the page will load as expected.