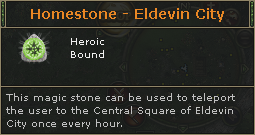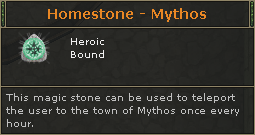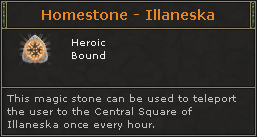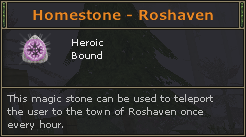 The Homestone can be used to instantly teleport yourself to your chosen hometown, wherever you are. It can be used once every 60 minutes.
In the beginning the Homestone is attuned to Eldevin City, later you can re-tune it to teleport you to 3 other cities:
To do this you have to find and talk to the city's Homestone Marshal. To re-tune it back to Eldevin City, talk to Guide Ornan in the Central Square.
You receive the Homestone as a reward upon completing the quest [5] Eldevin Walking Tour.
Ad blocker interference detected!
Wikia is a free-to-use site that makes money from advertising. We have a modified experience for viewers using ad blockers

Wikia is not accessible if you've made further modifications. Remove the custom ad blocker rule(s) and the page will load as expected.