Jewelry practitioners create amulets, charms, and rings that can be equipped for various stat boosts. This can be done at any Jewelers Bench. The necessary materials can be acquired through Prospecting (ingots), Crystal Cutting (gemstones), and by purchasing (wax).
(Note: Gems that can be socketed into equipment are a separate type of item that are not related to the Jewelry or Crystal Cutting professions.)
Locations
Edit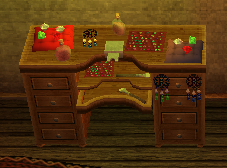 Apprentice Jewelry Trainers give out daily skill quests related to the Jewelry profession.
Jewelers Benches and Apprentice Jewelry Trainers can both be found in the following places:
Produced items
Edit
Except where stated, the item level is equivalent to the skill level required to craft it.
Level 1-10

Skill Level
ITEM
Stone
Ingot
Wax
Other
Item Sell Value
1
Basic Amethyst Amulet Of Vigor
(Item Level: 4)
3 Amethyst
3 Copper
1 Cheap
14
1
Basic Amethyst Ring
(Item Level: 4)
3 Amethyst
3 Copper
1 Cheap
14
2
Basic Amethyst Amulet of Spirit
(Item Level: 5)
3 Amethyst 
3 Copper
1 Cheap
24
2
Crafted Amethyst Charm
(Item Level: 5)
3 Amethyst
3 Copper
1 Cheap
1 Dense Copper Ore
2 Unblemished Amethyst Quartz
3
Basic Amethyst Charm Of Archery
(Item Level: 5)
3 Amethyst
3 Copper 
1 Cheap
24
3
Basic Amethyst Ring Of Magic
(Item Level: 5)
3 Amethyst
3 Copper
1 Cheap
24
4
Basic Amethyst Ring Of Combat
(Item Level: 6)
3 Amethyst
3 Copper
1 Cheap
44
4
Crafted Amethyst Amulet of Spirit
(Item Level: 6)
3 Amethyst
3 Copper
1 Cheap
5
Basic Amethyst Charm Of Combat
(Item Level: 6)
3 Amethyst
3 Copper
1 Cheap
44
5
Basic Amethyst Ring Of Archery
(Item Level: 6)
3 Amethyst
3 Copper
1 Cheap
44
6
Crafted Amethyst Amulet Of Vigor
(Item Level: 7)
5 Amethyst
5 Copper
2 Cheap
6
Improved Amethyst Ring
(Item Level: 7)
5 Amethyst
5 Copper
2 Cheap
60
7
Improved Amethyst Charm Of Magic
5 Amethyst
5 Copper
2 Cheap
60
7
Improved Amethyst Ring Of Combat
5 Amethyst
5 Copper
2 Cheap
60
8
Improved Amethyst Amulet Of Spirit
5 Amethyst
5 Copper
2 Cheap
80
8
Improved Amethyst Ring Of Magic
5 Amethyst
5 Copper
2 Cheap
80
9
Improved Amethyst Amulet Of Vigor
5 Amethyst
5 Copper
2 Cheap
1 2
9
Improved Amethyst Charm Of Archery
5 Amethyst
5 Copper
2 Cheap
1 2
10
Improved Amethyst Charm Of Combat
5 Amethyst
5 Copper
2 Cheap
1 28
10
Improved Amethyst Ring Of Archery
5 Amethyst 
5 Copper 
2 Cheap
1 28
Level 11-20

Skill Level
ITEM
Stone
Ingot
Wax
Other
Item Sell Value
11
Refined Amethyst Amulet Of Spirit
8 Amethyst
8 Copper
3 Cheap
1 97
11
Refined Amethyst Charm Of Magic
8 Amethyst
8 Copper
3 Cheap
1 97
12
Crafted Amethyst Amulet
8 Amethyst
8 Copper
3 Cheap
2 Dense Copper Ore
3 Unblemished Amethyst Quartz
12
Refined Amethyst Ring
8 Amethyst
8 Copper
3 Cheap
2 37
13
Refined Amethyst Charm
8 Amethyst
8 Copper
3 Cheap
2 80
13
Crafted Amethyst Ring Of Magic
8 Amethyst
8 Copper
3 Cheap
4 Dense Copper Ore
5 Unblemished Amethyst Quartz
14
Refined Amethyst Charm Of Vigor
8 Amethyst
8 Copper
3 Cheap
3 27
14
Refined Amethyst Amulet Of Vigor
8 Amethyst
8 Copper
3 Cheap
3 27
15
Refined Amethyst Amulet
8 Amethyst
8 Copper
3 Cheap
3 80
15
Refined Amethyst Band
8 Amethyst
8 Copper
3 Cheap
3 80
16
Basic Aventurine Charm Of Spirit
3 Aventurine
3 Bronze
1 Bees
5 32
16
Basic Aventurine Ring Of Archery
3 Aventurine
3 Bronze
1 Bees
5 32
17
Basic Aventurine Amulet Of Vigor
3 Aventurine
3 Bronze
1 Bees
6 4
17
Basic Aventurine Ring Of Magic
3 Aventurine
3 Bronze
1 Bees
6 4
18
Basic Aventurine Amulet Of Spirit
3 Aventurine
3 Bronze
1 Bees
6 80
18
Crafted Aventurine Charm Of Vigor
3 Aventurine
3 Bronze
1 Bees
1 Dense Bronze Ore
2 Unblemished Aventurine Quartz
19
Basic Aventurine Amulet
3 Aventurine
3 Bronze
1 Bees
7 62
19
Basic Aventurine Ring Of Combat
3 Aventurine
3 Bronze
1 Bees
7 62
20
Improved Aventurine Amulet of Spirit
5 Aventurine
5 Bronze
2 Bees
20
Improved Aventurine Ring Of Archery
5 Aventurine
5 Bronze
2 Bees
---