Leatherworking practitioners create medium armor out of leather. This can be done using a leatherworkers mannequin. The needed materials can be acquired through Skinning (leather) and by purchasing (glue).
Locations
Edit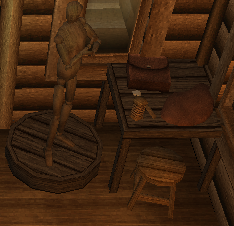 Leatherworkers Mannequins can be found in the following places:
Apprentice Leatherworking Trainer
Edit
Apprentice Leatherworking Trainers give out daily skill quests related to the Leatherworking profession.
Produced items
Edit
Except where noted, item level is equal to the skill level.
---
Ad blocker interference detected!
Wikia is a free-to-use site that makes money from advertising. We have a modified experience for viewers using ad blockers

Wikia is not accessible if you've made further modifications. Remove the custom ad blocker rule(s) and the page will load as expected.