Longshore is a long stretched area in Eldevin Kingdom (East), divided by Crannoch Harbor.
It's northern part is located between Mythos and the shoreline, the southern part between Crannoch Mountain and the coast.
Longshore North
Edit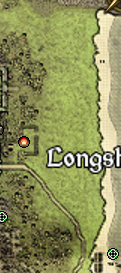 There are paths to Vestor Fields in the north, gates to Mythos in the west and Crannoch Harbor in the south. Entrance to the Crannoch Mountain Gauntlet in the rocks near Mythos.
at the East Southern Gate of Mythos (Rested XP area)
Entrance of Crannoch GauntletEdit
enter first from the other entrance, to start the questline
Creatures
Edit
Longshore South
Edit
Paths to Crannoch Harbor in the north, Crannoch Mountain in the west and Adera Plains and Bochdaen Cathedral in the south.
Entrance to the Longshore Pothole near Bochdaen Cathedral.
Creatures
Edit
Resources
Edit
Ad blocker interference detected!
Wikia is a free-to-use site that makes money from advertising. We have a modified experience for viewers using ad blockers

Wikia is not accessible if you've made further modifications. Remove the custom ad blocker rule(s) and the page will load as expected.