Northam is an area that covers the northmost places of Eldevin Kingdom (West). The area is most suitable for player levels 6–8.
Northam is bordered in the North and East with mountains, in the West with a shoreline and the Northam Harbor, and in the South with Eldevin City and Othalo. Northam has exits to The Barren Trail and Northam Thicket in its Northern mountains, and also entrances to the hidden areas Crimson Macabre Stronghold and Crimson Macabre HQ at its North-East borders.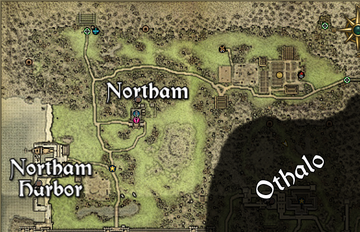 Locations
Edit
Northam Camp
Edit
Scout Clap, at the western entrance
outside the magical barrier
West Northam Pig Farm
Edit
Northam Farm
Edit
Creatures
Edit
Resources
Edit
Ad blocker interference detected!
Wikia is a free-to-use site that makes money from advertising. We have a modified experience for viewers using ad blockers

Wikia is not accessible if you've made further modifications. Remove the custom ad blocker rule(s) and the page will load as expected.