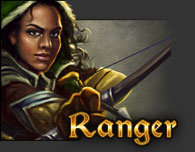 Favored attribute: Ranged
Melee slots: Knives
Ranged slot: Bows and crossbows
Preferred armor: Medium
Abilities: List of Ranger abilities
The Ranger is a master of bows and crossbows. Sorcery and Melee are avoided by the vast majority of Rangers as their main interest is the Ranged attribute to make their bows more potent. A Ranger's true strength is their wide variety of abilities. This means that Rangers with high Energy ensure that they can use their abilities freely. Of course Focus is always useful for an easy kill. The first skill any Ranger learns is the damage dealing Black Fang. This is a staple for most Rangers, foes learn to dread the Black Fang's signature purple glow. Haemorrhage causes serious bleeding over time, which makes it the skill of choice for many Rangers to initiate combat. The Crystal Blast stuns a Ranger's target for a second, but this can be increased with the Concussion talent making this skill even more useful. On top of all that the Ranger also has Blazing Arrow, which incinerates any enemy caught in arrow's cone of burning fire. The finest Rangers are those who observe the flow of battle and use their skills accordingly.
Ranger abilities:
Learned from scrolls:

Learned through talents:
Ad blocker interference detected!
Wikia is a free-to-use site that makes money from advertising. We have a modified experience for viewers using ad blockers

Wikia is not accessible if you've made further modifications. Remove the custom ad blocker rule(s) and the page will load as expected.