Relitho Falls is an area in the South-West corner of Eldevin Kingdom (East). It is just to the North-West of Fort Piregarde.
Relitho Falls is home to the Inconvenient Blossoms quest obtain from Jack. The quest requires you to enter the Hermit's Cave, which is also in Relitho Falls.
Also, the boss, Night Saber, from the Hala's Horror quest is found here.
Relitho Falls is also a great place for trout fishing, particularly on the dock to the South of Hermit's Cave. You can stand on the dock and reach two Trout Shoals without moving (see picture for dock location).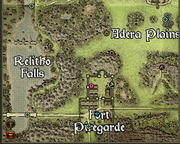 Ad blocker interference detected!
Wikia is a free-to-use site that makes money from advertising. We have a modified experience for viewers using ad blockers

Wikia is not accessible if you've made further modifications. Remove the custom ad blocker rule(s) and the page will load as expected.