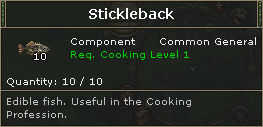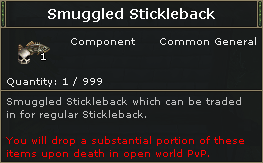 Sticklebacks are fish. They are components in some Cooking recipes.
Uses: Cooking:
Sources: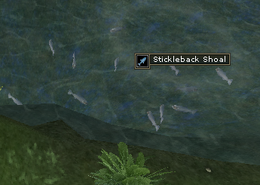 Sticklebacks can be fished from Stickleback Shoals, which can be found in and near Eldevin City, Othalo, and also on the coast of Northam and Northam Harbor.
Smuggled Stickleback can be gathered on Trapper's Atoll and traded for Stickleback with the Smuggled Goods Vendor. They stack up to 999 pcs.
Can also be bought from the FIshmonger in Eldevin City, next to the well which is next to the port.
Catches needed:
~700 fish will level you from 1-8 with rod equipped(1-3 catches / rod use) XP at fishing varies a lot i got from 30-40 xp within the same level, as i think the time for a catch also varies - its not always 5 seconds sometimes 4 sometimes 6 (and between)
Rod Equipped: 30-38 xp / catch - 8 seconds

Rod Unequipped: 32-44 xp / catch - 10 seconds
Ad blocker interference detected!
Wikia is a free-to-use site that makes money from advertising. We have a modified experience for viewers using ad blockers

Wikia is not accessible if you've made further modifications. Remove the custom ad blocker rule(s) and the page will load as expected.