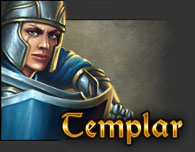 Favored Attribute: Melee
Melee Slots: one-handed weapon and shield
Ranged Slot: throwing weapon
Preferred Armor: Heavy
Abilities: List of Templar abilities
Dressed in Heavy Armor and carrying a shield and sword, the Templar can go toe-to-toe with any enemy and take large amounts of damage. As with a Warrior, Vitality and Melee are the main interest for the Templar. A few points could be put into Sorcery so that the Templar can heal their allies more effectively. Some would say that the Templar gives up some damage dealing by carrying a shield. This is not the case, as with Vindicate the Templar charges the shield with a magical energy and slams it directly into their enemies. Not only that, but Impale draws foes to them and throws vicious ethereal spikes at all those who are foolish enough to come near. This would be deadly enough, but the Templar can also use Bloodbath with equal ferocity to any Warrior. With these powerful skills, the Templar can stand with confidence at the forefront of battle.
Ad blocker interference detected!
Wikia is a free-to-use site that makes money from advertising. We have a modified experience for viewers using ad blockers

Wikia is not accessible if you've made further modifications. Remove the custom ad blocker rule(s) and the page will load as expected.